The General Fisheries Commission for the Mediterranean (GFCM) of the Food and Agriculture Organization of the United Nations (FAO) is organizing a training on sustainable aquaculture practices for young women from the Mediterranean and the Black Sea region.
A collaboration between the GFCM, Tunisia's Ministry of Agriculture as well as local communities and farmers, the training will take place between 5–12 September 2022, in various locations in Tunisia.
Women in the Mediterranean and the Black Sea play an important role in aquaculture, and contribute to all aspects of the sector – from rearing fish, growing seaweed or other aquatic foods, stocking, quality control to research. What's more, in recent years, their contributions to this traditionally male-dominated sector have been on the rise.
For example, whilst in countries in the region, women represent between 17 to 26 percent of the aquaculture workforce, in some countries, like Italy, the participation of women in aquaculture rose by over 150 percent from 2008 to 2014. In other countries, such as Tunisia, aquaculture research is mostly carried out by women – at over 56 percent.
Yet, women's contributions often go unnoticed, as these are not reflected in data on the sector. Their voices often go unheard. In addition, opportunities for women – especially young women – to learn about aquaculture or deepen their knowledge on the sector have been scarce.
To address this, the GFCM training will focus on bringing together young women across the Mediterranean and the Black Sea so they can learn about the latest developments in aquaculture and get hands-on exposure to some of the best aquaculture practices in Tunisia.
The training will consist of a series of technical sessions by aquaculture experts from Tunisia and the region on topics ranging from best communications practices to GFCM's approach for the sustainable development of aquaculture; and seven visits to four regions of Tunisia to learn about small-scale aquaculture and different environments, species and production systems.
The training is in line with GFCM 2030 Strategy for sustainable fisheries and aquaculture in the Mediterranean and the Black Sea, which aims to build an equitable and inclusive aquaculture sector. It also supports the objectives of the International Year of Artisanal Fisheries and Aquaculture (IYAFA) 2022 to enhance the contribution of small-scale aquaculture to sustainable development, and to reinforce the collaboration between farmers, administration and other stakeholders along the value chain.
The training is not solely envisaged to provide young women with access to new knowledge and to build skills, but also to support women's full and effective participation and equal opportunities for leadership at all levels of decision-making in aquaculture.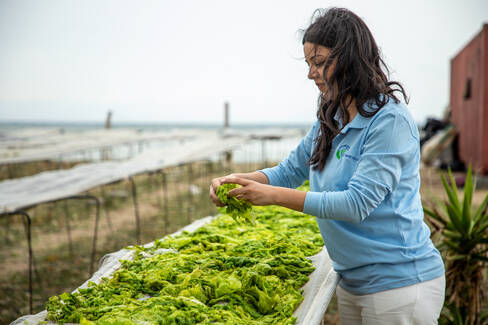 ©Nadia Selmi
FOCUS
From the north to the south of Tunisia: snapshot of the field visits
Kuriat Islands and Bay of Monastir: Kuriat Islands' marine protected areas are known for their rich biodiversity and ecosystems. Monastir Bay hosts many finfish aquaculture farms. Currently, 11 farms are operational, representing more than half of all the farms that are contributing to the area's economic and social development, providing jobs and nutritious, low-priced food to local communities. Participants will discover how different activities around the marine protected area complement each other and learn about the importance of marine spatial planning tools, a participatory approach, and monitoring.
El Biben lagoon: El Biben lagoon is Tunisia's second largest lagoon and a biodiversity hotspot. Extensive aquaculture takes place in the lagoon and seabass and seabream are harvested each autumn. Participants will have the opportunity to learn about extensive aquaculture.
Desert aquaculture: Integrating freshwater aquaculture into the desert's agriculture system is a significant opportunity for small-scale producers. Participants will visit a spirulina and a tilapia farm in Gabès area. They will learn about desert aquaculture and the use of geothermal waters for farming and irrigation.
Bizerte lagoon: The watershed of the Bizerte lagoon plays an important socioeconomic role, with several maritime activities carried out in the lagoon, such as coastal fishing, as well as mussel and oyster farming. Participants will learn about current activities in the lagoon as well as new opportunities such as seaweed farming.
REGISTRATION
To register for the training, please visit this page.
Registration closes on 17 July 2022.
Participants should meet the following criteria:
 under 40 years of age;
basic knowledge on aquaculture and/or communications;
and  ability to swim.
The GFCM will select ten participants for the training. Once registered, candidates could be also be considered for other future GFCM training or other opportunities for women in aquaculture.
For more details, please see the GFCM aquaculture training for young women's agenda and the concept note.
Contact: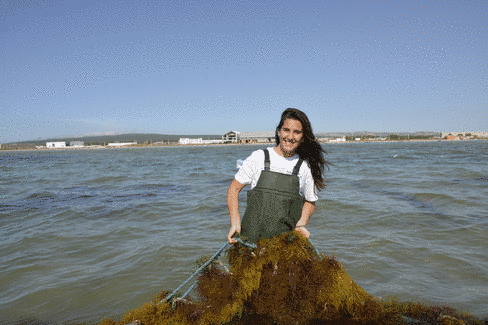 ©GFCM/Houssam Hamza
Did you know?
Significant growth in aquaculture has driven global fisheries and aquaculture production to a record high as aquatic foods make an increasingly critical contribution to food security and nutrition in the twenty-first century.
FAO's 2022 edition of The State of World Fisheries and Aquaculture (SOFIA) says the growth of aquaculture, particularly in Asia, lifted total production of fisheries and aquaculture to an all-time high of 214 million tonnes in 2020, comprising 178 million tonnes of aquatic animals and 36 million tonnes of algae.
Production of aquatic animals in 2020 was 30 percent higher than the average in the 2000s and more than 60 percent above the average in the 1990s. Record aquaculture output of 87.5 million tonnes of aquatic animals largely drove these outcomes.
As the sector continues to expand, FAO says more targeted transformative changes are needed to achieve a more sustainable, inclusive and equitable fisheries and aquaculture sector. A Blue Transformation in how we produce, manage, trade and consume aquatic foods, is crucial if we are to achieve the UN Sustainable Development Goals,
RESOURCES